Pearl 6-Months Lenses
Grey coloured lenses
No need to take a dive to find the perfect shade of pearl. This light grey tone is sure to make your eyes bright. Just remember, in this shade the world is your oyster.

It's a light grey shade with a tinge of a light blue tone. Also has a slight limbal ring on the edges which gives a sharper look. It can change your eye colour up to 70-80% depending on your original eye colour and give you a most natural looking bright grey coloured eyes.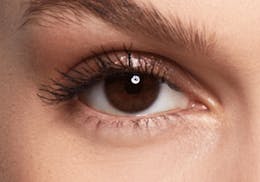 BEFORE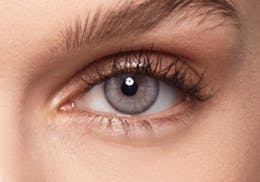 AFTER
Please note: The effect give by the coloured lenses may vary depending on the natural colour of the iris.
Product Benefits

What makes our 6-months lenses special?

Long-lasting lenses, tested and certified for 6-months use. Available with or without power.
Package includes 2 vials (1 pair of lenses), soft tip tweezers and a lens case.

Layered lens technology

Protected colours protected eyes

The layered lens technology keeps the colour design sandwiched between two layers of the lens material to better preserve the colours and to keep the pigment from touching your cornea directly.

Tear rotation system

Lenses designed for comfort

We work hard to ensure our lenses lead the market in quality and comfort. The tear rotation edge structure keeps your eyes naturally hydrated by letting your tears pass through behind the lens.

Designed in Sweden

Natural looking coloured lenses

SWATI lenses are designed in Sweden. Our designs are made to perfectly integrate and work with your existing eye colour and create a natural looking shade unique to you.

ISO 13485 & CE

Product Safety Standards

SWATI coloured lenses are manufactured to international safety standards (ISO 13485) and CE marked. Just as safe as any conventional lenses you buy at the pharmacy. We always recommend reading our online manual before use.
Product Details

Product

Soft Contact Lenses

Pack Format

2 Vial Pack (1 Pair) Buffered saline solution

Material

Polymacon

Water Content

38%

Diameter

14,20 mm

Base Curve

8,70 mm

Replacement

6-Months

Sterilization

Moist Heat
How to Use

How to use coloured lenses?

Place the lens on the tip of your index finger. Make sure the edge of the lens is perfectly upright.

Hold your eye open with your free hand, then place the lens with your index finger on the cornea.

Slowly blink and look in different directions to stabilize the lens.
Get notified when PEARL is back in stock.
Read our privacy policy informations to know how SWATI processes your personal data.
<
Thank You!
We will notify you when PEARL will be back in stock.