Tourmaline
Eyelash + brow booster growth serum
Seen as a carrier of unconditional love, the pink power of tourmaline truly is lovely. This booster will put all its heart into making your lashes and brows blossom. Be prepared for jealous looks walking down the street.
With actives such as panthenol, biotin, vitamin PP and larch tree wood extract, this lash and brow booster doesn't only make your lashes appear longer and thicker, they become healthier and stronger too. From root to tip, for the healthy condition, your beautiful hair deserves. It's time to embrace the full look. Full time.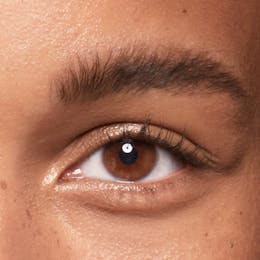 BEFORE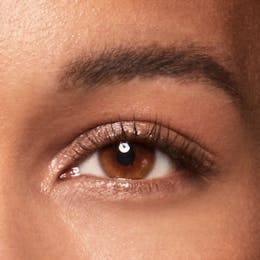 AFTER
Please note: The overall appearance of the lashes may differ depending on the size and shape of your eyes.
Real results with Tourmaline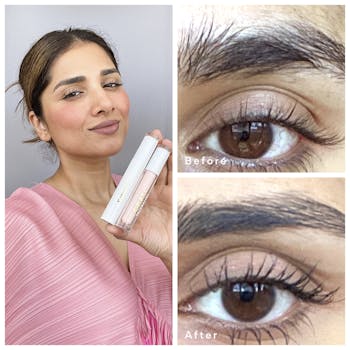 I'm impressed! I recommend everyone to try on these products.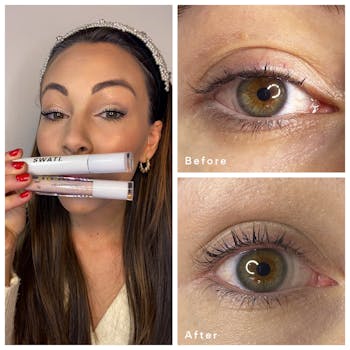 The serum is super easy to apply, I love it!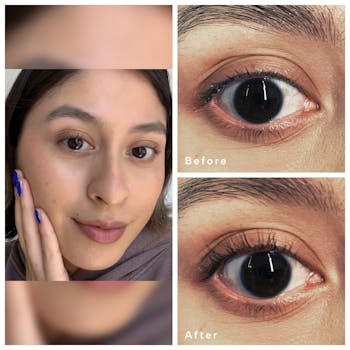 I loved the dual ended serum brush, and how easy the application was!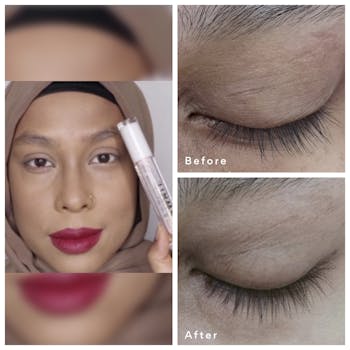 I have noticed my lashes getting bit longer and more extra hair on my brows also getting bit more thicker its brilliant
Product Benefits

What makes TOURMALINE special?

Pink power making lashes and brows blossom

After 28 days of use*
Up to 36% longer-looking lashes

75% of the panellists saw stronger looking lashes

70% of the panellists saw healthier-looking lashes

75% of the panellists saw fuller-looking brows

After 45 days of use*
Up to 49% longer-looking lashes

93% of the panellists saw stronger looking lashes

86% of the panellists saw healthier-looking lashes

80% of the panellists saw thicker and naturally darker looking brows

66% of the panellists saw naturally more curled lashes

Suitable for sensitive eyes and contact lenses users

* Results from independent laboratory testing on 25 women aged between 19 and 58

Longer Lashes

Day & Night use

2 in 1 Brush

Vegan & cruelty free
Magical Formula

Our magical formula

It's not rocket science. But it's science for rocking your lashes

Larch tree wood extract

Larch tree wood extract

Together with Biotin, it activates stem cell division. Helpful for reducing hair loss and for making eyelashes appear longer, fuller and stronger

Carob tree seeds

Carob tree seeds & Vitamin PP

This combination increases hair strength and elasticity, improves dry and weak hair, and repairs damage.

Provitamin B5

Provitamin B5 (PANTHENOL)

Panthenol is absorbed by skin cells and converts to vitamin B5. This allows for essential hydration as well as making the lashes look thicker.

Biotinoyl Tripeptide-1

Biotin

A three amino acid peptide promoting hair bulb keratinocyte proliferation and optimal hair anchorage, resulting in a reduction of lash fall-out.

Green tea leafs

Green tea leaf extract

Strong antioxidant that helps stimulate hair growth by cleansing the hair follicles

Zinc

Zinc

Keep the oil glands around the follicles working properly to ensure the lashes and brows stay healthy over time. Accelerating hair follicle recovery when damages occur.
Product Details

Product

Tourmaline Lash + brow booster serum

Pack Format

1 bottle with 2-in-1 brush

Net Contents

3.7 ml / 0.125 fl oz

Ingredients

Aqua/water, Glycerin, Niacinamide, Triethanolamine, Panthenol, Propylene Glycol, Phenoxyethanol, Carbomer, VP/VA Copolymer, CI 77891 / Titanium Dioxide, Sodium Dehydroacetate, Hydrolyzed Ceratonia Siliqua Seed Extract, Ethylhexylglycerin, Zea Mays (Corn) Starch, Silica, CI 77491 (Iron Oxides), Sodium Metabisulfite, Glycine, Larix Europaea Wood Extract, Aluminum Hydroxide, Potassium Sorbate, Sodium Benzoate, Camellia Sinensis Leaf Extract, Zinc Chloride, Biotinoyl Tripeptide-1, Polyquaternium-7, Guar Hydroxypropyltrimonium Chloride.
How it works

How does the tourmaline magic work?

Week 1

Let's begin

Your lash and brows are ready to be transformed!

Week 2

Consistency

You might not notice some visible changes, keep going, applying morning and night will make the difference.

Week 4

Almost there

You will start to notice fuller longer lashes and thicker brows. The magic is beginning to work.

Week 6

Well done!

Your lashes and brows are noticeably fuller and longer! Yay! keep applying every day to maintain your new lashes and brows!
How to Use

How to use serum?

Apply on lashes

Apply to the lash line with the foam tip from the inner corner to the end of the eye.

Brush lashes

Brush through lashes from root to tip with the soft bristle applicator.

Apply on brows

Apply on brows with the foam tip and remove the excess with the soft bristle applicator.

Massage brows

Massage gently until the product is fully absorbed. Just wait and let the pink power do its magic.
WE'D LOVE TO FEATURE YOU!
Get notified when TOURMALINE is back in stock.
Read our privacy policy informations to know how SWATI processes your personal data.
<
Thank You!
We will notify you when TOURMALINE will be back in stock.