›

›
Monthly Lenses
Our monthly lenses are made of 2-HEMA with 42% water content. The same material most contact lenses are made of. These materials were chosen to create a look as natural as possible. Monthly contact lenses are simply contacts that you can wear for 30 days from the opening date.
How to use SWATI Cosmetics monthly contact lenses? Start with placing the lens on the tip of your index finger, then hold your eye open with your free hand and place the lens with your index finger on the cornea. Last, slowly blink and look in different directions to stabilize the lens. We don't recommend sleeping in the monthly lenses, and should only be worn for a maximum of 6 hours at a time.
Wearing contacts for longer than the recommendations can increase the risk for complications and eye infections. To keep the monthly lenses fresh, use a new lens cleaning solution after every use. Don't use tap or sterile water, rewetting drops, salina or saliva. You should always make sure your monthly contact lenses are clean and moist before putting them in your eye. Never put in a damaged lens in your eye.
OUR PRODUCTS EMPOWER OUR CUSTOMERS TO EXPRESS THEMSELVES. TO CHOOSE AND CHANGE AT WILL.
Sign up & get 10% off
Subscribe to our newsletters and stay up-to-date with new products and exclusive offers.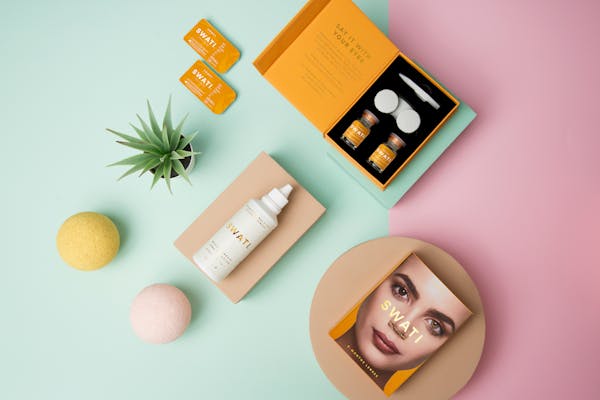 Secure payments

Free Shipping
on orders above 79$/€
Vegan products

Swedish Design

Our site uses cookies and handles personal information to improve your experience. Read more about it in our Privacy Policy